Product introduction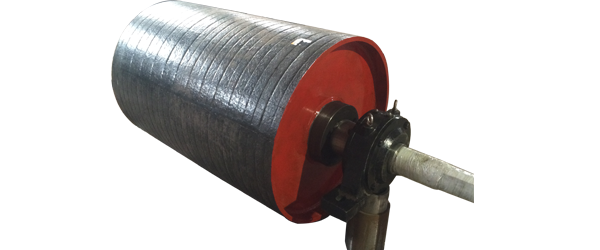 Conveyor pulley
JULI could supply various GT multi-metal wear-resisting conveyor pulley, such as take up pulley, bend pulley, head pulley,tail pulley and etc. (Figure A).
The conveyor pulley uses multi-metal wear-resisting material that is coherent to the surface of pulley instead of the conventional rubber layer. Standard life span can reach more than 50000 hours (6years). As per GB/T 10595-2009 (equivalent to ISO-5048), life span of pulley bearing shall be more than 50000 hours which means clients can maintain the bearing and pulley surface at the same time. Max life span can be more than 30 years.
The surface and internal structure of multi-metal wear-resisting material is porous. The groove on the surface will increase the resistance coefficient and slip resistance. Conveyor pulley has a performance in heat dissipation especially in high temperature condition. Decay resistance is another advantage of snub pulley. It can also achieve a good performance at the seaside or some other complex condition. High hardness of the surface will prevent the foreign body(scrap iron or dina) from inserting into the pulley and protect the belt thereby.

Other JULI Corporation products
©2004 JULI Engineering. All rights reserved.